About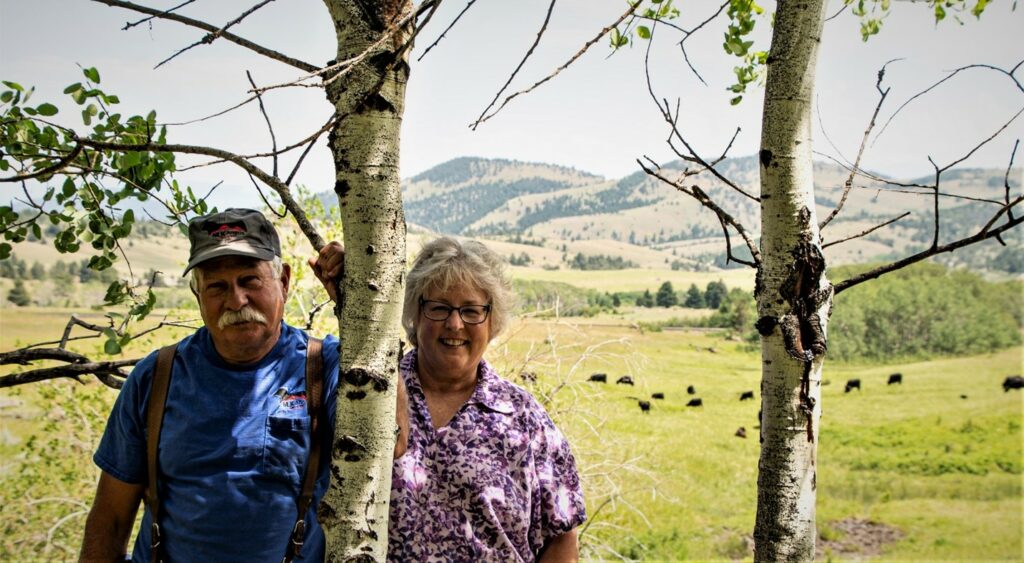 MLK Angus strives to be at the forefront in the Angus Breed.  We are a small family seed stock operation located in the Helena Valley right across from Lake Helena. Being small makes it easier to offer quality cattle focusing on foot structure, udders, maternal instinct and temperament.  We have cattle that put-on pounds!
We A-I our cows to some of the leading bulls in the country.  We try to keep our EPD's strong but well balanced and tend not to chase day-to-day fads.  Our cows come from time tested, quality genetics with lineages that include proven sires that reach back to bulls that include Sitz Traveler 8180, Sitz Alliance 6595, DHD Traveler 6807, Sitz Rainmaker 6169, Connealy Onward, Leachman Right Time, and N Bar Emulation EXT.  More recent sires used in our program include Graber's Mr Angus 9080, E & B Plus One 816, Rito 92Q20 of Rita 5F56 GHM, Sitz Upward 307R, Connealy Thunder, Connealy Comrade 1385, Sitz Rainmaker 11127, GAR Ashland, SAV Resource 1441, and Barstow Cash.
Our dams are proven mothers with excellent maternal instinct that raise exceptional calves.  We do not creep feed our pre-weaned calves.  They come straight off grass with the bull calves typically having a 205-day adjusted wean weight from 750 to 850 pounds, with some more than 900 lbs.
At the end of the day, it is all about pounds and with our genetics, your operation can produce those pounds!  MLK Angus offers high quality, well-bred bulls and heifers at a consistently lower cost than you would find at a production sale.  Give us a call.  You won't be disappointed!
Our Beginning
It started quite by accident, but wow, what a ride!
One thing that the Keller's were good at was growing quality hay.  With that being said, we traded hay for an old roping steer.  He ate, he grew and he was tasty!   We can do this!  The following year, we brought two older bred cows from a ranch up North.  They had feet like skis and udders that touched the ground and were as big as coke bottles.  With excited anticipation, we waited.  Unfortunately, our first calf was still born and the second did well only after we patiently helped it nurse from those big ole teats.  Having just lost 50% of our calf crop, we headed over to the local dairy and came home with not one, but two little Holsteins, both of which ended up having scours.  Out of necessity, our vet skills were soon strongly enhanced as was our medicine cabinet.  We managed to save one, but sadly lost the other one.  If learning by making mistakes could make us cattlemen, we were well on our way!
The next cows we purchased were much younger and performed reasonably well.  We bought some private treaty and some from the sale barn.  Some had issues, some didn't.  You can be sure there were more learning opportunities all along the way!  It was obvious to us that it was time to upgrade.  If we're only going to have a few cows, they needed to be good ones!  It was time to introduce some quality into the Keller herd! We had grown large enough that it was time to start thinking about buying our own bull.  Not just any old bull, but a good bull!  Off to the Sitz Fall Bull Sale we went.  After watching the first several bulls sell, it didn't take us long to realize that we weren't quite ready to bark with the big dogs, but fortunately we could howl with the puppies and we finally ended up purchasing a nice bull later in the sale.
Time moved on and so did we.  We bought a few older bred cows from the Sitz's brand inspector, the late Ted Williams.  This was the beginning of a great friendship with one of the most knowledgeable people we know.  Ted knew the Angus breed well!  He took us under his wing, talked EPD's and genetics and MLK Angus was born!  Ted introduced us to Bob Sitz at the Harrison Ranch.  Through the years, we purchased good bulls here and there and bought older bred Sitz cows, dabbled with Embryo transplanting and artificial insemination.   As we grow and move forward, we continually pay attention to foot structure, maternal instinct, good udders, and temperament all in an effort to promote the great Angus Breed!  Our many thanks to both Ted and Bob for their help and guidance and to our many friends, veterinarians, our A-I and embryo transplant professionals and other great Angus Breeders that have helped us along the way!